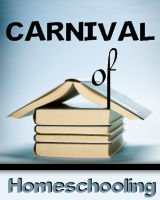 I am excited to be hosting the Carnival of Homeschooling next week on my blog. I always enjoy receiving the entries and reading them as I put the carnival together. I do not have a specific theme in mind other than articles that deal with home education. There are so many varied ways to homeschool and instill a life-long passion for learning in our children.
Let's have a great time and share some of our passion for educating our children at home!
To submit an article for consideration for the Carnival of Homeschooling, here are the particulars:
Submissions are due to: CarnivalOfHomeschooling@gmail.com by 6:00 PM (PST) on the Monday evening of the week. (July 13th)
It will be greatly appreciated if the submissions come in earlier. I work on assembling posts as I have time during the week leading up to the Carnival.
Please send the following information:
Title of Post
URL of Post
Name of Blog
URL of Blog
Brief summary of the post (With "carnival" or "submission" in the subject field of the email.)
You can also send in a submission via Blog Carnival by going here.
If you haven't read any blog carnivals before, please read What is a Blog Carnival.
Thanks so much! I am looking forward to reading your articles!!